Published on:

Author name:

Dr. Sanusi Umar MD

Author Bio:

Dr. Sanusi Umar MD is the author of this article.

Last Updated on November 17, 2020 by Dr Sanusi Umar MD

Skin Resurfacing Using Fraxel Laser Treatment in Manhattan Beach, Los Angeles: Today's state of the art skin resurfacing technology allows for a non-invasive and relatively painless way to unveil the smooth, youthful skin hidden beneath years of aging and scarring. Uneven skin tone and texture can be caused by acne scarring, aging, sun spots, and several other conditions, leaving those afflicted with feelings of self-consciousness and low self-esteem. At Dr. U Skin Clinic, skin resurfacing using the Fraxel Dual laser or Fraxel Repair laser is able to "undo" this damage and restore an invaluable sense of cosmetic confidence to the patient.
Ideal Candidates for Skin Resurfacing
Fraxel treatment is ideal for prospective patients with an array of unwanted conditions, which include:
Uneven pigmentation/skin discoloration caused by:

Freckles
Acne
Liver spots

Sagging skin
Enlarged pores
Stretch marks
Birthmarks
Vascular dyschromia
What is Fraxel and What Does Fraxel Do?
So just what is Fraxel? In 2001, the advent of fractional laser light forged a groundbreaking treatment for those suffering with cosmetic imperfections of the skin. Thanks to this breakthrough technology, the stigma that used to accompany laser skin resurfacing, and the nightmare stories of laser treatments gone wrong (scarring, pigmentary problems etc) , have become obsolete with the average modern-day patient. Fraxel is the first laser brand to go commercial with this laser technology. But what does Fraxel do exactly? Its heated beams of light are actually split into thousands of microscopic (fractional) columns that target very specific areas within the skin. This is different from the previous laser technologies which treat wholesale layers of the skin in a continuous spread. Fractionation means only a fraction of the skin is treated at a time. The intervening untreated skin forms the basis for new skin and pigment to form over the treated fractions.
Clinical resurfacing using Fraxel laser can be done using one of two Fraxel laser models:
Fraxel Dual Laser
Fraxel Repair Laser
Fraxel Dual Laser for Skin Resurfacing
The Fraxel Dual laser is adjustable to different settings, or wavelengths, creating two lasers in one (hence the name "dual"), which makes it a more customizable treatment than laser systems of the past.
The 1550nm Erbium wavelengthgenerates the regrowth of collagen and elastin fibers in the deep dermis layers of the skin, making the surface smoother and increasing firmness. This is the setting used to target deeper cosmetic issues, like scarring and pock-marking. It may take multiple sessions on this setting to resurface the skin to the patient's desired outcome.
The 1927nm Thulium wavelength refines more superficial cosmetic issues closer to the surface of the skin such as:
Fine lines and wrinkles,
Freckles,
Sun spots
Melasma
and the like may be corrected after just one treatment with the Fraxel Dual laser on this setting. Those with extensive pigmentation damage may require more than one treatment.
These specifications make the Fraxel Dual laser a gentle and accurate form of treatment, mitigating the risk of surrounding tissue damage and other complications that lasers used to be known for. Fraxel Dual is a non-ablative approach to skin resurfacing; it heats the targeted tissue just enough to trigger collagen and elastin regeneration, rather than vaporizing the tissue altogether. This enables patients with darker complexions to be candidates for skin resurfacing.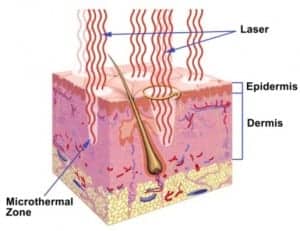 How Fraxel Dual is Applicable for All Skin Tones
There was a time when patients with darker complexions could not pursue laser skin resurfacing. This was due to the type of laser technology used (and there remain certain lasers that are still inadvisable for dark skin). The contraindication stems from the wavelengths of those lasers, which can scatter the light unintentionally. This misdirected light can be absorbed into the surrounding tissue, which is particularly dangerous for darker skin because of the higher melanin content. More melanin makes the skin increasingly susceptible to absorbing the misdirected laser light, thereby causing unintended damage and scarring.
The highly concentrated fractional light and longer wavelength of the Fraxel Dual laser facilitates successful treatment for all skin tones.
Fraxel Repair Laser for Skin Resurfacing
The Fraxel Repair laser is a more aggressive form of treatment than the Fraxel Dual. While it is an ablative approach to skin repair and tissue regeneration, it (on account of its fractionation) is gentler than common ablative lasers like CO2 and Erbium; it achieves powerful results with less risk and reduced downtime. Fraxel Repair uses the same highly focused fractional light technology, but on a 10,500nm wavelength, which vaporizes the tissue deep, deep down. The collagen and elastin fibers in these deeper layers are induced into a healing and repair response, filling in depressions from scars and smoothing the skin's surface. This laser also destroys melanin cell structures and then sweeps away this dissolved tissue, clearing up pigmentation problems like unwanted birthmarks, age spots, and melasma.
In Summary, Indications for Fraxel repair treatment in the appropriate patient include:
Deep wrinkles
Deep scars
Unwanted birthmarks
Age spots
CONTRAINDICATIONS OF FRAXEL REPAIR LASER
Because of the ablative nature of the Fraxel Repair laser, it is contraindicated in patients with darker skin. In fact, only patients with fair skin (Fitzpatrick levels I-III) are considered safe candidates for this treatment. The heat energy of the Repair laser is easily absorbed by melanin which, in dark skin, could lead to:
Scarring
Hyperpigmentation
Sores
Long term redness
Muscle damage
Acne breakouts
Heightened sensitivity to skin care products and makeup
The Skin Resurfacing Process with Fraxel Lasers By Dr. Umar, In Manhattan Beach, Los Angeles
Pain Management
Because the laser uses heated light, you will likely feel an intense heat sensation during your session. The Fraxel Repair laser, a more intense treatment, might feel more painful than the Fraxel Dual laser. Dr. Umar places a lot of importance on patient comfort. For that reason, he offers his patients the following pain control options:
Application of a powerful topical anesthetic cream.
Injecting regional anesthetic blocks akin to what you would get at your dentist.
Oral and intramuscular sedatives.
This will minimize any pain and keep you as comfortable as possible throughout the treatment.
Length of the Session
Dr. Umar will apply the laser over the entire area where skin resurfacing is needed. This should take about 30 minutes.
Post-Treatment Recovery
With the Fraxel Dual laser, most patients will need 6 to 10 days for recovery. The Fraxel Repair laser requires about 2 weeks of downtime because it is an ablative treatment. Throughout this time for either laser, you will need to rest, recover, and avoid sun exposure. Your skin will go through a redness, drying, and peeling process. It may appear you've been badly sunburned during the first few days, which will then become a bronzed, dried, and cracked layer of skin. This layer will soon shed to reveal a more beautiful, smooth, even, and firm surface beneath.
For 3 months following your session, you must apply an SPF 30 sunscreen to the treated area every day. It is advised to wear protective clothing as well, and to generally keep the skin shielded from direct sunlight.
How Much Time is Needed Between Fraxel Sessions
For the Fraxel Dual laser, if you require multiple sessions, you must wait at least 2 to 4 weeks between treatments. This time is critical for allowing the skin to repair itself in the interim.
For the Fraxel Repair laser, because it is a more intense and aggressive treatment to start with, most patients only need one treatment. If you do require a second treatment, you must wait 4 full weeks before returning.
What Parts of the Body Can Fraxel Treatment Be Used On?
Fraxel lasers can be used for skin resurfacing on almost any area of the body. The most common treatment areas include:
Face
Neck
Chest
Backs of the hands
Arms
Legs
Dr. U Skin Clinic Manhattan Beach Los Angeles: Fraxel Before and After Photos
Fraxel Repair Before and After Result in A Dr U Skin Clinic Palos Verdes Patient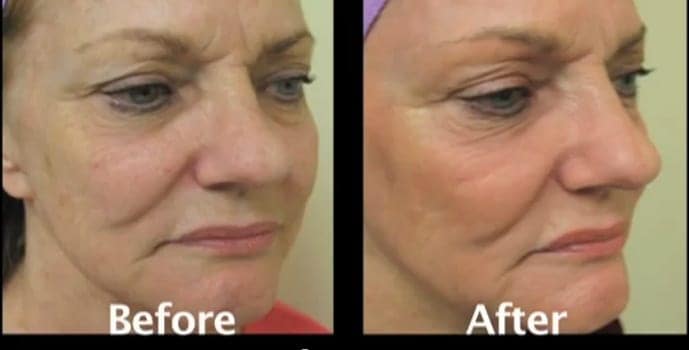 Fraxel Dual Before and After Age Spots and Discoloration In Manhattan Beach LA
The following patient wanted to reverse the damage caused by years of sun exposure, which resulted in age spots, and sunspots. Looking at what Dr. Umar did with Fraxel before and after, you can see that she was happy with the dramatic result. She was also pleasantly surprised to also find her skin firmer, with reduced pore size.
Fraxel Before and After Acne Scar Treatment by Dr Umar Manhattan Beach Los Angeles
These patients struggled with severe acne and acne scarring. Using multiple sessions with Fraxel Dual, both saw vast improvement in the texture and smoothness of their skin.
Los Angeles Fraxel Before and After Surgical Scarring by Dr. Umar
This patient sought to smooth the texture of a scar on the tip of his nose, which resulted from a punch biopsy at another clinic. After a single session with Fraxel Dual laser, the scar became far less recessed and less noticeable.
Fraxel Before and After Age Spots In An Asian Palos Verdes Patient By Dr U Skin Clini Manhattan Beach
This patient struggled with age spots. She desired a more even pigment and tightened facial skin.
Video: Skin Resurfacing By Fraxel Dual Laser Treatment for Age Spots In Manhattan Beach Los Angeles Dr. U
Contact Dr. U Skin Clinic for a Free Skin Resurfacing Consultation
If you want smooth, even, youthful-looking skin, but have severe textural or pigmentation issues, contact Dr. U Skin Clinic for a free consultation–no commitment necessary. Dr. Umar will address your cosmetic issues and discuss the best course of treatment for you.
Call Dr. U Skin Clinic directly at 877-337-6424 to schedule your consultation, or complete the online consultation form here:
Frequently Asked Questions On Fraxel Laser Skin Resurfacing Treatment
Is it possible to combine different laser therapies for maximum results?
Yes! In fact, Dr. Umar has successfully treated many patients using a combination of laser therapies with Fraxel Dual and Spectra laser. Spectra acts as a mild exfoliator and a safer, more controlled alternative to chemical peels. The two of them used together in a course of treatment yields beautiful, youthful results.
What is the cost of Fraxel treatments?
The cost of Fraxel Dual treatment cost ranges from $750 to $1500; While Fraxel repair laser treatments cost between $1500 and $3000 per session. Generally, costs vary with the extent of the skin damage and the surface area of the skin that needs to be treated.
Have more questions for Dr. Umar? Click the button below to send them directly:
Further Reading:
Learn more about the use of lasers to treat acne. 
Read about hair removal treatments in Los Angeles.