In the first long-term study of Body Hair Transplantation ( BHT ). Sanusi Umar, MD, FAAD, FASDS, transplanted body hair to restore thinning scalps. Hairlines, strip surgery scars, and bald crowns were restored. 122 patients were evaluated in the long term for growth, wound healing and overall satisfaction with good results.
The Aesthetic Surgery Journal ( ASJ ) published Dr. U's Body Hair Transplant Study report on 122 patients. It is the first large-scale study on BHT
Until this study, reports of BHT have been sporadic and of isolated cases for which reason expectations and outcomes of BHT has been subject to speculation with various practitioners using different protocols, tools and techniques resulting in varied success rates. Dr. Umar who has had consistent success with the procedure has finally published his study of a large number of his patients who were followed over a long period.
New Body Hair Transplant Study By The Aesthetic Surgery Journal – Protocols, Standards, Tools, and Techniques
The findings were published in the Aesthetic Surgery Journal. ASJ is a peer-reviewed international journal. It focuses on scientific developments and clinical techniques in aesthetic surgery. In this new body hair transplant study, Dr. Umar shows how the correct use of donor hair creates a natural looking head of hair. Hair from the beard, trunk, legs, and neck can be used. For those suffering from baldness also called alopecia without sufficient head donor hair, BHT brings hope.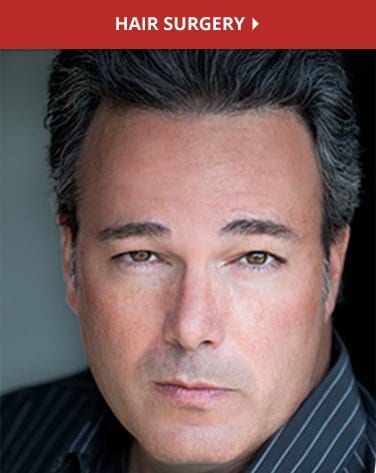 The first recorded case of leg hair use in a soft natural hairline creation. Was part of the study. Photos show hairline results at 9 years after DrUGraft BHT
Choosing the right donor hair to transplant is important.  To get natural looking hair, a surgeon must know the qualities of donor hair. Coarse hair from the beard grows longer. If used in a hairline, it can look like hair plugs were used. Leg hair grows shorter. The finer hair strands make it more appropriate for a hairline.
Strip Surgery Scars Covered! Botched Surgeries Add to Severe Baldness
There are many causes for a lack of head donor hair. Severe baldness, aggressive strip surgery,  severe scarring and too many surgeries have left many patients with few options. BHT can be used to restore even severely bald patients. It also repairs damage caused by poorly executed surgeries.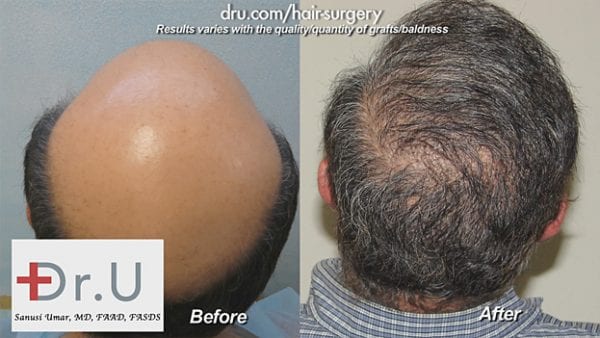 Included in the BHT study published by the Aesthetic surgery Journal is this NW 7 severely bald patient who was restored to normalcy using UGraft BHT
The patented UGraft® systems designed by Dr. Sanusi Umar prove that body hair shafts from the beard, trunk, and extremities can be used to treat baldness.  When patients have inadequate amounts of scalp donor hair, this may be the only option. The conclusion of the new body hair transplant study determined that Dr. UGraft Follicle Unit Extraction (FUE) using body hair can be an effective hair transplantation method for a select patient population. Those individuals with adequate body hair who suffer from severe baldness or inadequate scalp donor reserve are the best candidates. The following video illustrates the highlighted points briefly:
UGraft is only available through Dr. U Hair and Skin Clinics.
Dr. Umar developed carefully choreographed, but strict protocols for long-term hair growth and has helped patients turned away by hair restoration clinics. Many attempts at hair transplantation have left these patients with few options. Aggressive strip surgery uses up donor hair. Studies have shown 60% of men and 40% of women may be facing hair loss in their lifetime.  BHT gives them a new happier outlook. The patented UGraft® system uses a minimally invasive approach. More donor hair is recovered and healthy. The process allows new hair growth to repair the damage caused by poorly executed surgeries.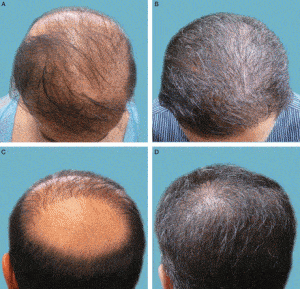 New Body Hair Transplant Study Shows new hair growth
Peer Reviewed Publication By The Journal of The American Society for Aesthetic Plastic Surgery
This new body hair transplant study was published in the Aesthetic Surgery Journal on May 30, 2016. The ASJ is the official publication of the American Society for Aesthetic Plastic Surgery (ASAPS). The ASJ is published by Oxford University Press. It is the English-language journal of many major international societies of plastic, aesthetic and reconstructive surgery. Dr. Umar is an internationally recognized surgeon. He holds board certification from the American Board of Dermatology. Dr. Umar is a fellow of the American Society of Dermatologic Surgery and the American Academy of Dermatology. He is an associate faculty member at the University of California Los Angeles. Dr. Umar is a well-published academic pioneer in the field of hair transplant surgery. His case studies have appeared in the Journal of the American Medical Association (JAMA) JAMA Dermatology. Dr. Umar is a member of the International Society of Hair Restoration Surgery, ISHRS.